"Nuclearelectrica" – SA is registered with the Register of Commerce, Chamber of Commerce and Industry, as a state owned company. SNN SA is reporting to the Ministry of Economy. The state owns 90,28% of Nuclearelectrica's shares and Proprietatea fund – 9,72%. The main activity fields of SNN SA are centered on the generation of electrical and thermal power, and manufacturing of nuclear fuel.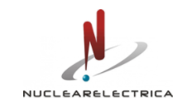 Managing a large number of projects with multiple activities and complex relationships
Start up second unit
Multiple team collaboration
Implemented Primavera, with 25 users and 40 projects
Consulting and implementation services
Simultaneously managing multiple projects in network
All users can access information in the same time and make changes with immediate effect
The system is scalable it can expand and contract according to the number of projects and users
Synchronizing planning with field reality
Tracking execution stages, resource, time and cost planning per project
Managing project and program risk
Hidroelectrica is a national leader in energy production.  As the main power generator and technological ancillary  services supplier in our country, the company has  strengthened its position in the top 100 of the most  valuable companies in Romania, earning second place in  2011.
Hidroelectrica's constant focus on quality and innovation  are preparing the company for all future challenges.

Increase project management efficiency by better control and project tracking
Modernize and deploy technology standards, deliver a scalable system
Elaborate and implement a work methodology with all the 14 subsidiaries and the subcontractors the company is working with on each project
Implementing Primavera P6, (72licences)
Estimates and Document management solution (12licences)
Oracle 11g Database Standard Edition
Delivering work methodology with subsidiaries and contractors
On the job training
More effective planning, staffing, and realistic project delivery timelines through real-time views of resource loading
Increased efficiency in project deployment, investment planning and control
The secure database, automatically eliminates in appropriate usage
Improved communication by working according to the new methodology
Electrocentrale București S.A. - ELCEN
ELCEN is the largest producer of thermal energy in Romania (40%) and the main supplier of thermal agent for the centralized heat supply system of Bucharest (90%) and also a very important player on the electricity market , covering 3.88% of the national market share. The object of activity of the company is the production, transport, distribution, dispatching and sale of thermal energy, but also the production and sale of electricity. With a tradition and experience in the energy field for over 125 years, ELCEN owned in 1889 the first hydromechanical-hydroelectric (hydraulic-electric) power plant, the Grozăveşti power plant being the first power plant of this type in Romania. At the moment, the company has four thermal power plants and a repair plant, all in Bucharest

Tracking projects with difficulties
Standardization of project management
Framing projects in the allotted time and budget
An efficient system that can generate reports on the status of all projects and contracts in / any location
Implementation of the Primavera Enterprise Project and Portfolio Management platform
Currency solution and document management
Elaboration of the working methodology between the branches and the headquarters
Consulting, implementation and training services
Real-time viewing of resource loads, project delivery with efficient planning
Possibility for all managers, regardless of location, to obtain the same reports / results, based on project data
Planning, investment control and increased efficiency in carrying out projects
Real support in reducing the risks identified within the project, through a strong planning analysis, clear cost forecasting and coordination between designers, suppliers, subcontractors and beneficiary
Facilitates project management by providing pre-set or adaptable reports and report formats, thus providing a clear picture of project progress
We adapt with priority to digital culture, fully adopting this transformation with the support of the Primavera Enterprise Project and Portfolio Management platform, a solution implemented by FIA Integra. Digitization of production means modernization through innovative solutions. Centralized information on each production process is fundamental for the adoption of documented decisions, with minimal risks of error, and the management of technical optimization scenarios becomes secure and transparent. Like any necessary change, digitization at the level of a critical infrastructure such as ELCEN, will facilitate the transition to new methods of production control, and data analysis represent a tool predictive and control extremely useful, which will allow rapid optimization of work processes. The fundamental concern of Electrocentrale Bucureşti S.A. is to provide higher quality services by streamlining and improving operating performance, focusing on limiting impact on the environment in line with European objectives.